---
•
CMAT20 Results
•
---

Chan, Garlen - 1st
Cheung, Andrew - 3rd
BMC10 - Beginner Male Child Traditional Northern Style Open Hand

Chan, Garlen - 3rd
BMC20 - Beginner Male Child Traditional Short Weapon

Chan, Garlen - 1st
BMC21 - Beginner Male Child Traditional Long Weapon

Tan, Nijo - 2nd
IMC10 - Intermediate Male Child Traditional Northern Style Open Hand

Teng, Nathaniel - 1st
IMC12 - Intermediate Male Child Other Traditional Open Hand

Teng, Nathaniel - 1st
IMC21 - Intermediate Male Child Traditional Long Weapon

Teng, Nathaniel - 1st
Tan, Nijo - 2nd
IMC22 - Intermediate Male Child Other Traditional Weapon

Lin, Eric - 1st
IMT10 - Intermediate Male Teen Traditional Northern Style Open Hand

Lin, Eric - 1st
Tan, Yuki - 3rd
IMT21 - Intermediate Male Teen Traditional Long Weapon

Lin, Eric - 1st
IMT22 - Intermediate Male Teen Other Traditional Weapon

Tan, Yuki - 3rd
IMT20 - Intermediate Male Teen Traditional Short Weapon

Photos with Chinese Captions
Shaolin Tempe USA
School Team Excelled at CMAT20
Congratulations!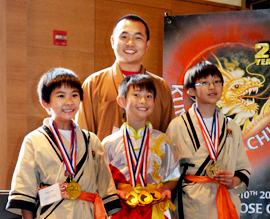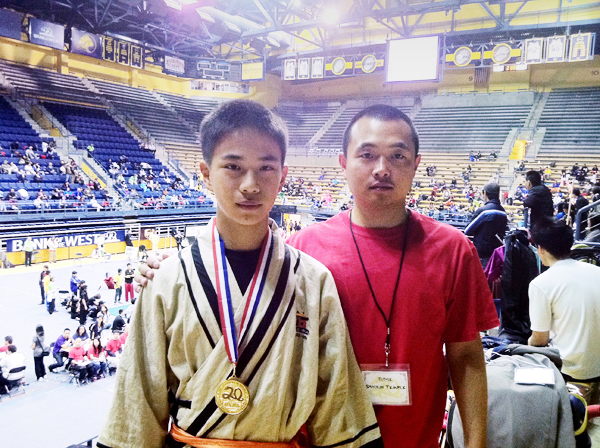 Shaolin Temple USA School Team members from our Culture Centers in San Francisco and Fremont, California garnered 14 medals at UC Berkeley's Chinese Martial Arts Tournament (CMAT20) on March 24, 2012. This year marks the tournment's 20th Anniversary. CMAT is one of the major Chinese martial arts tournaments in the United States.
Nathaniel Teng and Eric Lin was each awarded 3 Gold Medals, Garlen Chan 2 Gold and 1 Bronze, Nijo Tan 2 Silver, Yuki Tan 2 Bronze and Andrew Cheung 1 Bronze. Good Job!

They competed in traditional hand forms and weapons events including long and short weapons, selected by the students and parents under the advisement of their Sifus. The forms they selected included Shaolin Luohan Fist, Xiaohong Fist, Shaolin Spear, 9-sectioned Whip.
The team members have all trained very hard in class and during weekly school team training sessions. The Sifus at both culture centers had designed a training plan for each individual member that maximized and tracked the progress. Our Executive Director and Head Coach Master Shi Yanran worked with the students during special pre-match sessions to refine their forms and to give them further support and confidence. The collaboration among the students, parents and Sifus has paid off. CONGRATULATIONS to our school team members and a BIG THANK YOU to the parents and Sifus.
Shaolin Warrior Spirit —
"Valor and Diligence; Grace and Open Mindedness"



Shaolin Temple USA supports students who wish to compete in martial arts tournaments as a means to review one's training and enhance personal growth, build confidence, and the opportunity to be among their peers and learn from the strength of fellow Kung Fu practitioners. The focus and intensive training before competition proved to be an effective vehicle in advancing the students' levels and self confidence. We teaches our students to be gracious and open-minded. "Friendship First, Competition Second!"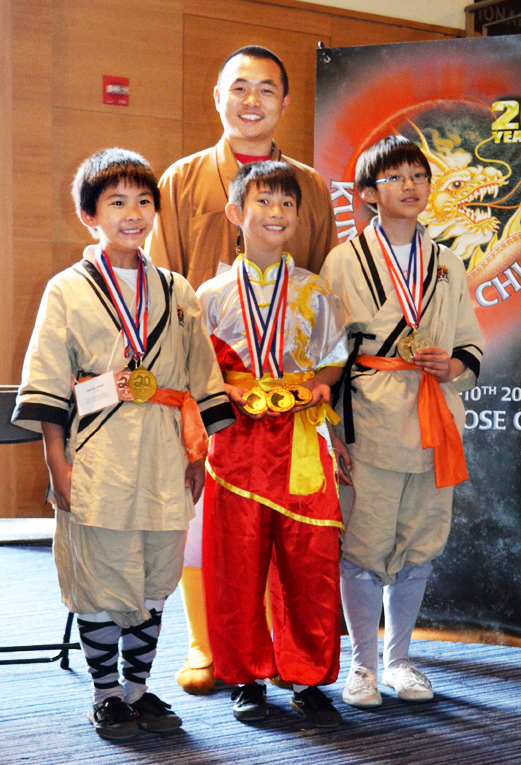 From left: CMAT20 medalists Garlen Chan, Nathaniel Teng and Nijo Tan
with Master Shi Yanran.
Nathaniel Teng won 3 Gold Medals with Shaolin Luohan Fist, 9-sectioned Whip and Shaolin 13 Spears.
Garlen Chan won 2 Gold Medals with Shaolin Yinshou Staff and Luohan Fist, and a Bronze Medal with Shaolin Plum Blossom Broadsword.
Nijo Tan won 2 Silver Medals with Seven Stars Fist and 9-sectioned Whip.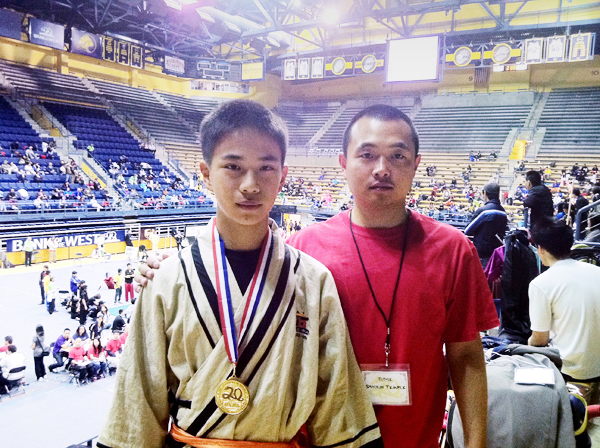 Eric Lin, winner of 3 Gold Medals in Intermediate Male Teen Division,
and Master Shi Yanran.
Eric won with Seven Stars Fist, Damo Cane and Shaolin 13 Spears.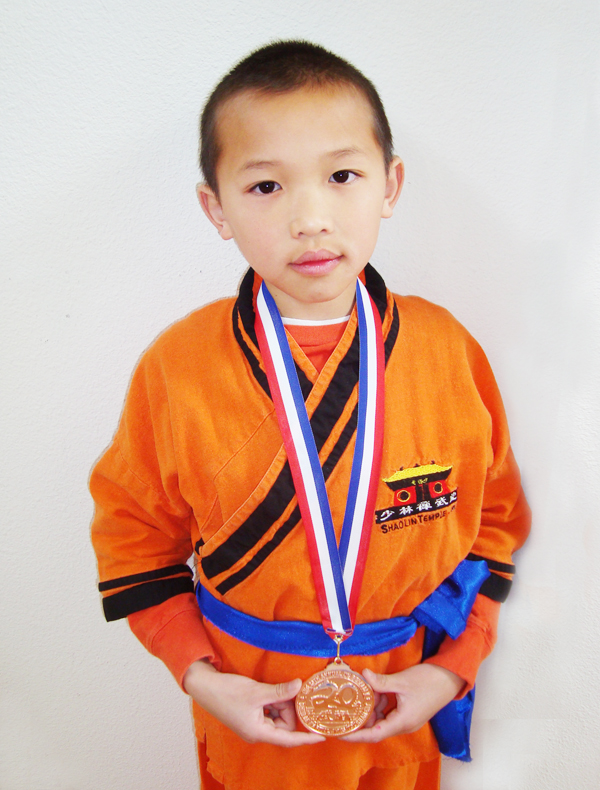 Andrew Cheung won a Bronze Medal with Shaolin Xiaohong Fist.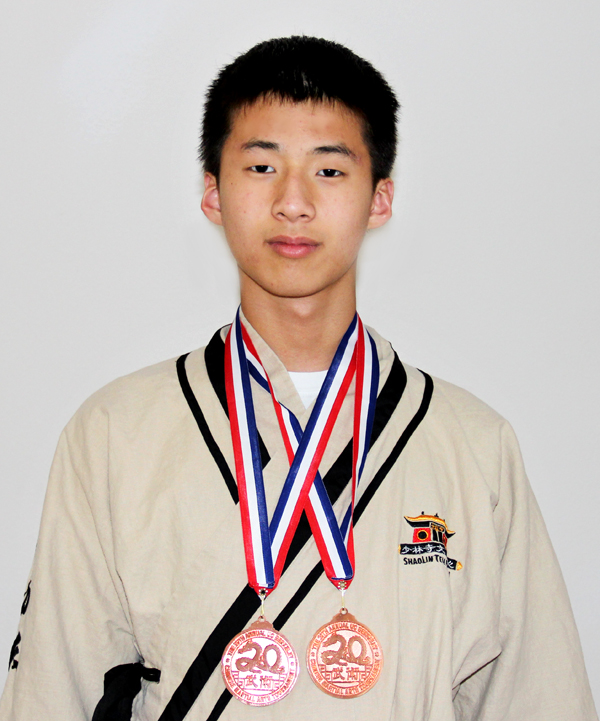 Yuki Tan won 2 Bronze Medals with Shaolin Seven Stars Fist and Shaolin Plum Blossom Broadsword.