---
•
CMAT24 Results
•
---


• San Francisco School Team •

ichael Kelly
Xiaohong Fist: 1st
Damo Straight Sword: 1st

Alan Tong
Yinshou Staff: 3rd

Kaitlyn Tran
Yinshou Staff: 1st
Damo Straight Sword: 1st
Tongbi Fist: 3rd

Queena Tran
Yinshou Staff: 2nd
Tongbi Fist: 3rd

Justin Wu
9-section Whip: 3rd

Sammie Wu
Plum Blossom Broadsword: 2nd
Yinshou Staff: 3rd

• San Francisco Children's Team •

Jacob Goldkrantz
Team: 2nd

Paige Goldkrantz
Damo Straight Sword: 3rd
Team: 2nd

Katie Ho
Yinshou Staff 1st
Damo Straight Sword: 3rd
Team: 2nd

Kristen Ho
Plum Blossom Broadsword 1st
Team: 2nd

Perry Teng
Xiaohong Fist: 1st
Damo Straight Sword: 1st
Team: 2nd

Jayden Wong
Five Animals Fist: 1st
Damo Straight Sword: 3rd
Team: 2nd

• Fremont School Team •

Kevin Chang
9-section Whip: 1st
Luohan Fist: 2nd
Team: 1st

Purav Desai
Team: 1st

Lawrence Nguyen
Team: 1st

Richa Puranik
Plum Blossom Broadsword 3rd
Team: 1st

Abrahim Tatavarty
Yinshou Staff: 2nd
Five Animals Fist: 2nd
Tongbi Fist: 3rd
Team: 1st

Emily Xu
Team: 1st

• Adult Advanced •

Ryo Eguchi
Dahong Fist— 1stl
Yinshou Staff: 1st
Plum Blossom Broadsword: 3rd

• Team Event •

Brilliant Shaolin: 1st
Fremont School Team
Happy Shaolin: 2nd
San Francisco Children's Team

Team Shaolin Tempe USA
School Teams Excelled at CMAT24

March 12, 2016

Congratulations!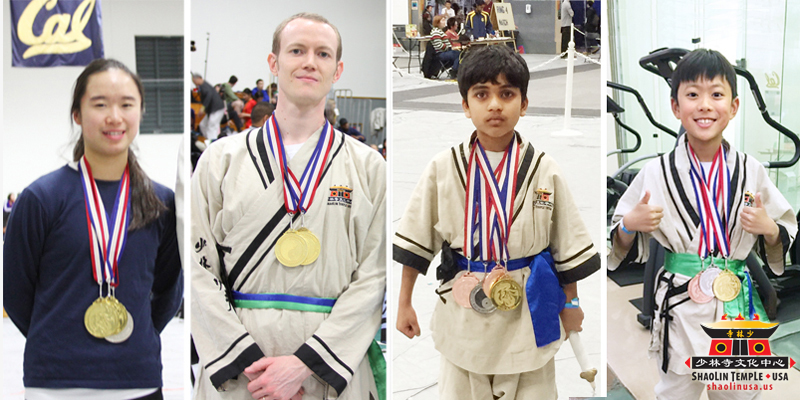 Team members won multiple medals in various age groups and levels, with a total of
18 gold, 12 silver and 10 bronze.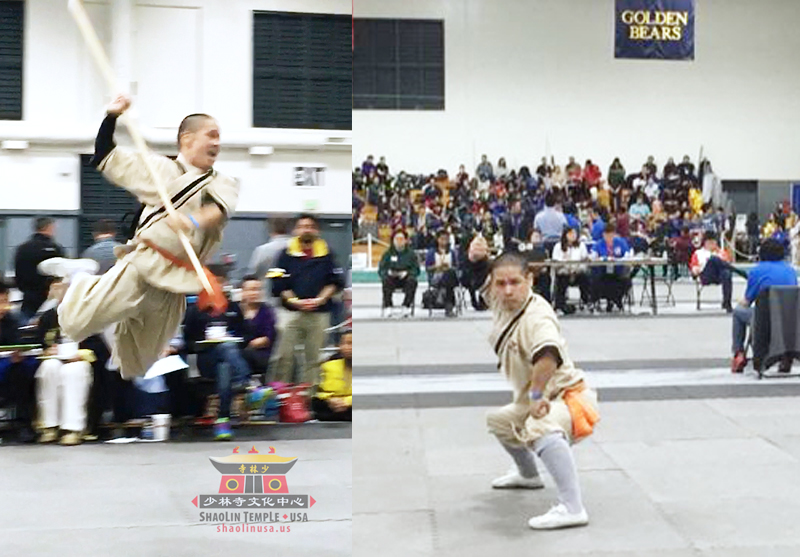 Ryo Eguchi Won 2 gold medals and a bronze medal with Dahong Fist, Yinshou Staff and Plum Blossom Broadsword
in Advance Adult divisions

The 24th Annual Chinese Martial Arts Tournament (CMAT 24) opened at the Recreational Sports Facility at UC Berkeley. CMAT is one of the most influential Chinese martial arts competitions in the United states. 500 competitors from all over the United States and China participate in the tournament each year. CMAT also invites distinguished martial artists and masters to the tournament as judges and advisors.

This year, Shaolin Temple USA's competition team comprised 20 students from Shaolin Temple Culture Centers in San Francisco and Fremont, California. Aged 6 to 40 from diverse ethnic backgrounds, the students garnered 18 gold, 12 silver and 10 bronze medals in individual events from beginner to advanced levels in different age groups.

In the Group Event, two Shaolin Temple USA teams — "Brilliant Shaolin Youth Team" and "Happy Shaolin Children's Team" won 1st and 2nd places respectively to round up their victory at CMAT 24.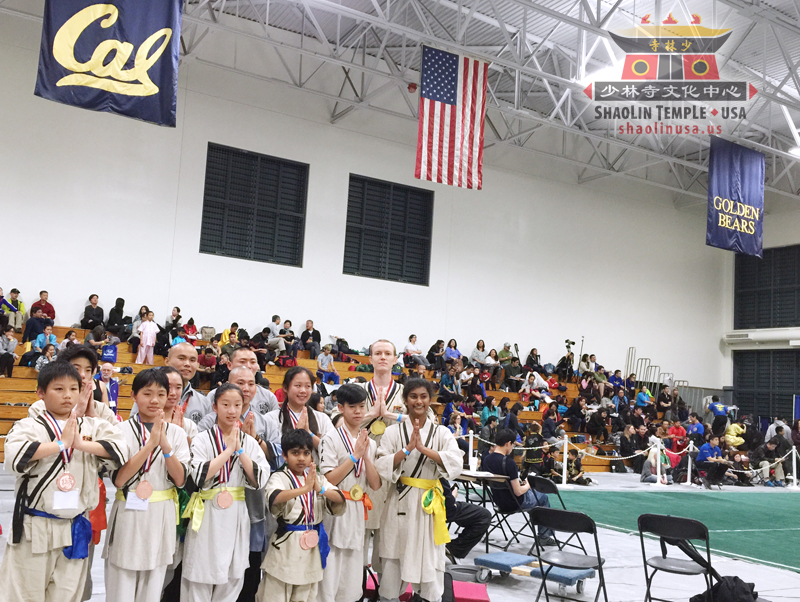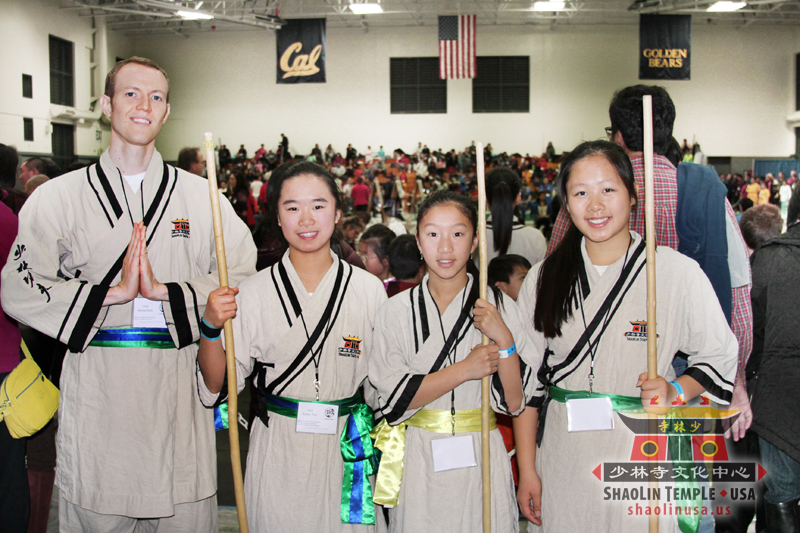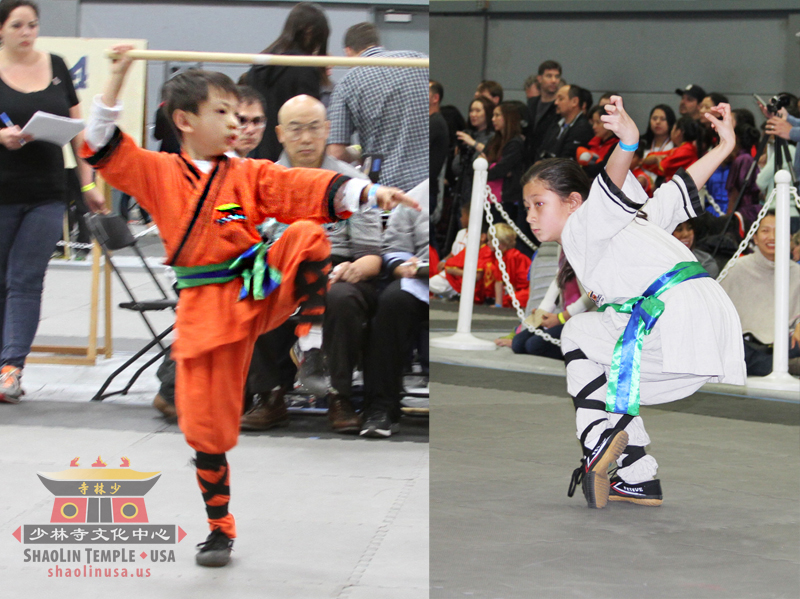 Young team members' debut in a major open tournament: Aiden Lieu and Paige Goldkrantz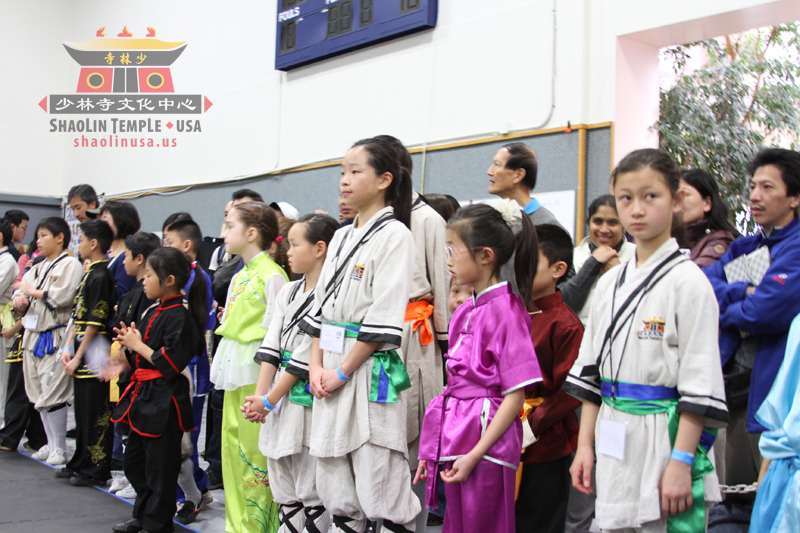 Children competitors came from different parts of the country.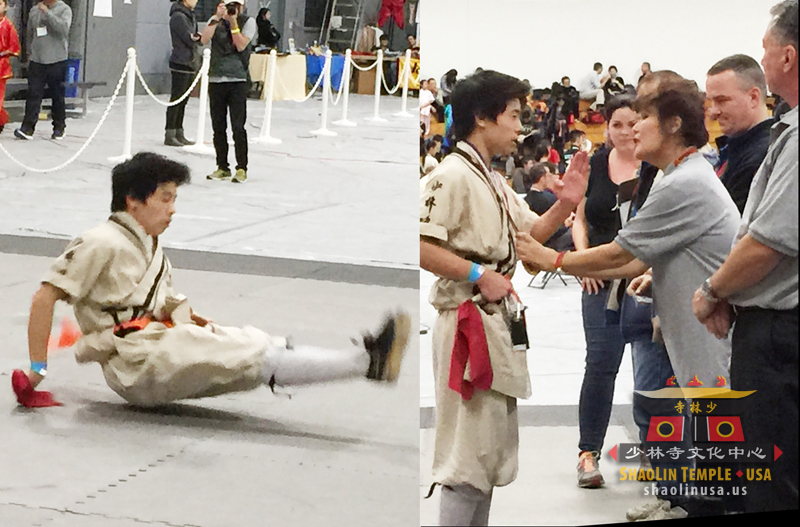 Kevin Chang from Fremont Center won 1st place with a Nine-section Whip routine.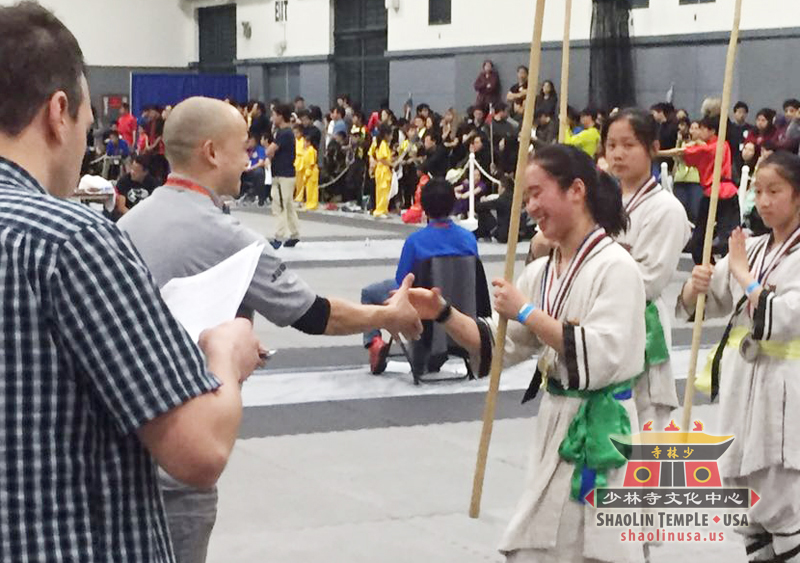 Kailyn Tran, Queeni Tran and Sammi Wu won 1st, 2nd and 3rd places respectivly
with Yinshou Staff.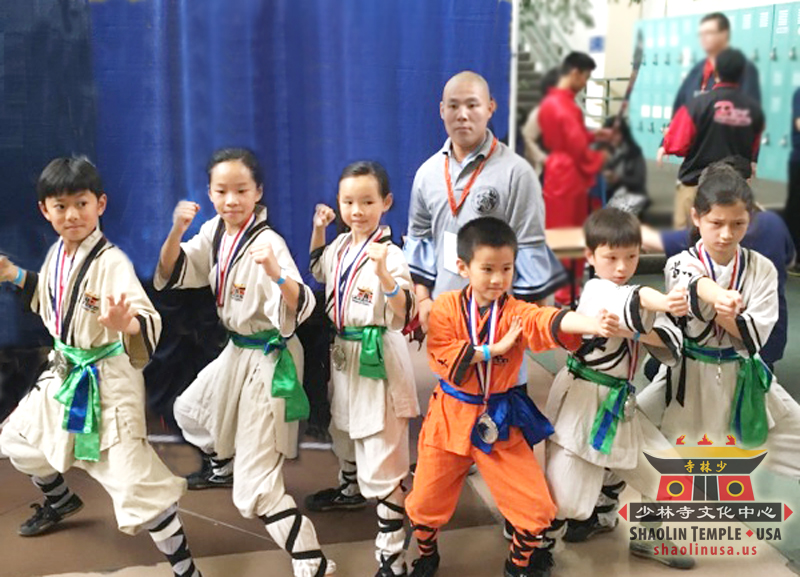 "Happy Shaolin" Children's Team from San Francisco Center.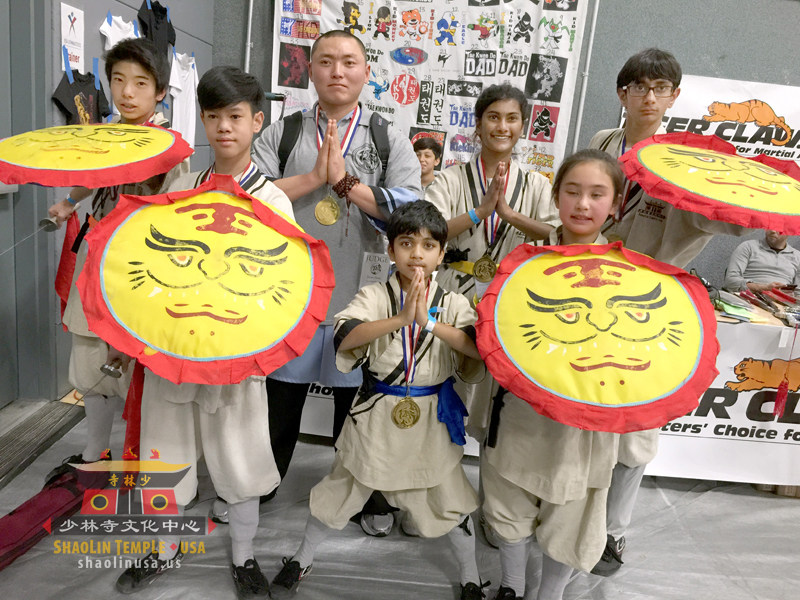 "Brilliant Shaolin" from Fremont Center.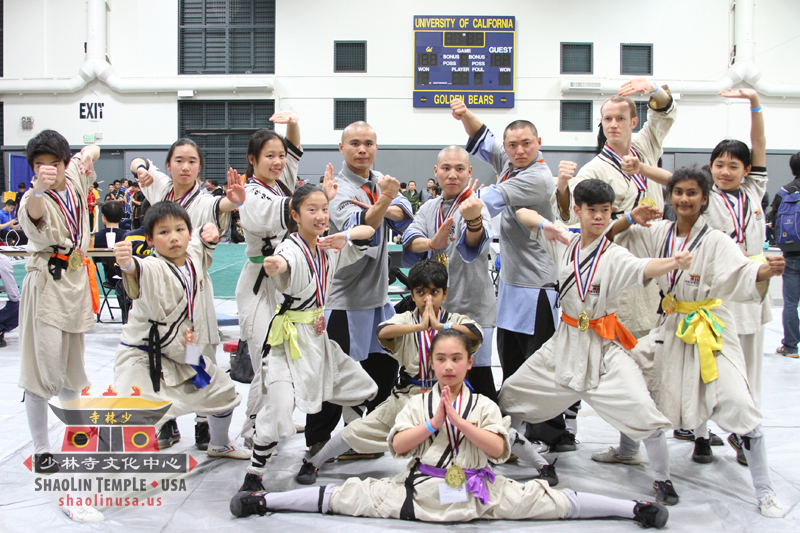 San Francisco and Fremont Co-ed Teams.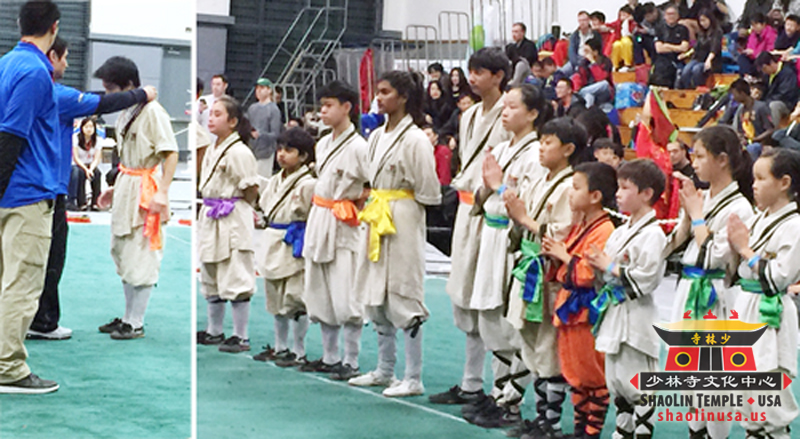 Group event awards: 1st and 2nd places went to 2 Shaolin Temple USA teams.

Shaolin Warrior Spirit —
"Valor and Diligence; Grace and Open Mindedness"



Shaolin Temple USA supports students in martial arts tournaments as a means to evaluate their training and enhance personal growth, build confidence, and the opportunity to be among their peers and learn from the strength of fellow Kung Fu practitioners.

The focus and intensive pre-competition training proved to be an effective vehicle for advancing the students' levels and self confidence.

We teaches our students to be gracious and open-minded. "Friendship First, Competition Second!"