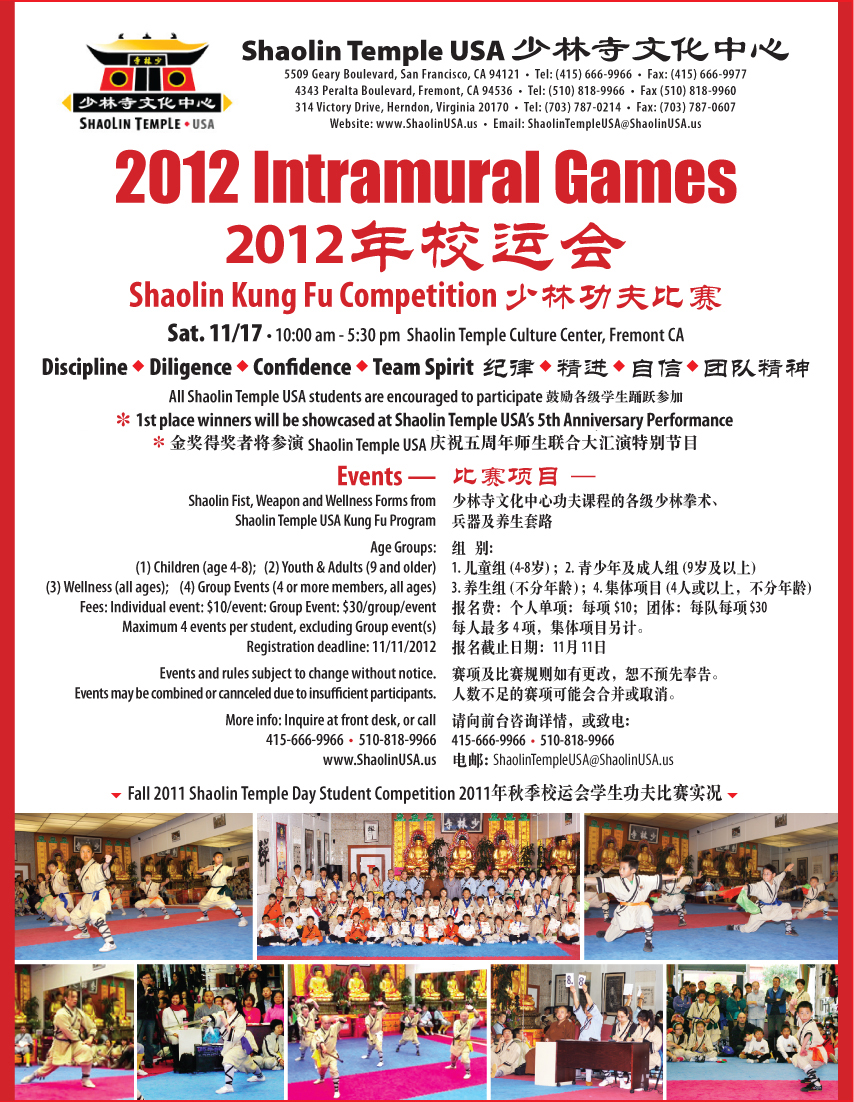 Shaolin Temple USA • Fall 2012 Intramural Games
2012.11.17 • Saturday
Venue:
Shaolin Temple USA Culture Center • 4343 Peralta Blvd., Fremont CA 94136

Student Kung Fu Competition

Discipline • Diligence • Confidence • Team Spirit

• Promote discipline, focus and diligence among students.
• Assess individual training results, establish clear objectives to achieve student's personal best.
• Build courage and confidence through participation.
• Promote team spirit: Unity and cooperation to learn and grow together.

Shaolin Warrior Spirit —
"Valor and Diligence; Grace and Open Mindedness"



Shaolin Temple USA supports students who wish to compete in martial arts tournaments as a means to review one's training and enhance personal growth, build confidence, the opportunity to be among peers and learn from the strength of fellow Kung Fu practitioners. The focus and intensive training before competition proved to be an effective vehicle in advancing the students' levels and self confidence. We teach our students to be gracious and open-minded.
Friendship First, Competition Second!

Shaolin Temple USA students of all levels are encouraged to participate in individual and team events

1st place winners will be showcased at Shaolin Temple USA's 5th Anniversary Performance,
12/16/2012 at the Chinese Culture Center of San Francisco

Spectators Welcome

Competition Events —
Shaolin Fist, Weapon and Wellness Forms from Shaolin Temple USA Kung Fu Program

Groups:
(1) Children (age 4-8);
(2) Youth & Adults (9 and older)
(3) Wellness (all ages);
(4) Group Events (4 or more members, all ages)

Fees: Individual event: $10/event: Group Event: $30/group/event
Maximum 4 events per student, excluding Group event(s)

Registration deadline: 11/11/2012
Please register at the front desk.


Events and rules subject to change without notice.
Events may be combined or cannceled due to insufficient participants
.
More info: Inquire at front desk, or call 415-666-9966 • 510-818-9966