|
Program
|
Photos
|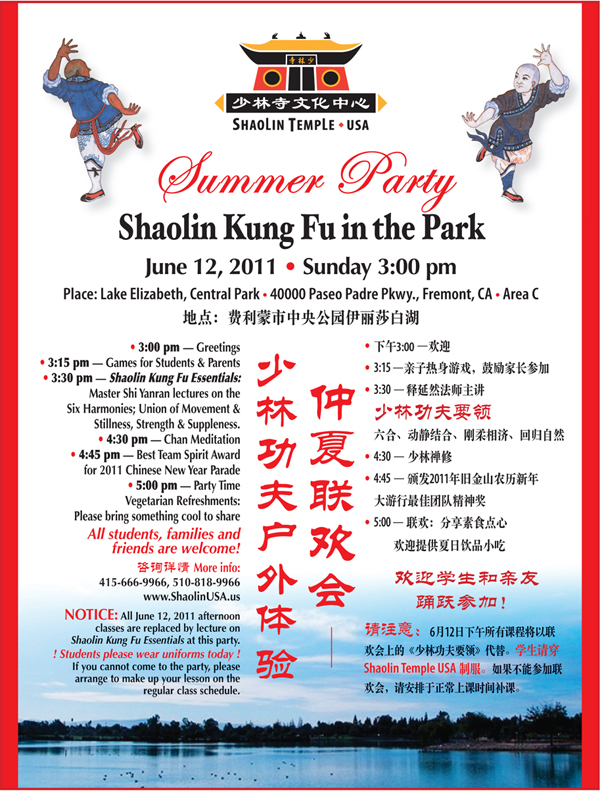 « enlarge flyer »


• 3:00 pm — Greetings
• 3:15 pm — Games for Students & Parents
• 3:30 pm — Shaolin Kung Fu Essentials Workshop:
Master Shi Yanran lectures on the Six Harmonies; Union of Movement & Stillness,
Strength & Suppleness.
• 4:30 pm — Chan Meditation
• 4:45 pm — Best Team Spirit Award for 2011 Chinese New Year Parade
• 5:00 pm — Vegetarian Refreshments
Please bring something cool to share
All students, families and friends are all welcome!

More info:
415-666-9966, 510-818-9966
www.ShaolinUSA.us
NOTICE: All June 12, 2011 afternoon classes are replaced byShaolin Kung Fu Essentials Workshop at this party.
! Students please wear uniforms !
If you cannot come to the party, please arrange to make up your lesson on the regular class schedule.
Lake Elizabeth in Cental Park, Fremont CA
40000 Paseo Padre Parkway (at Stevenson Blvd.), Fremont, CA
Nearest major street: Stevenson Blvd. (Interstate 880S exit)
Lake Elizabeth/Central Park official website
Map & directions to Lake Elizabeth/Central Park
Party location: Area C (green box on map)



Great Fun for Students and Families
at Lake Elizabeth
2011.06.12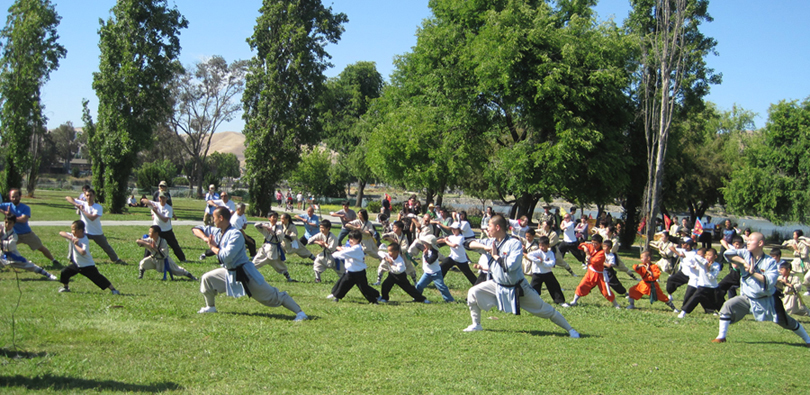 Sifus and students practicing Shaolin fist on the open grass area.





Warm up game for all ages.





Left & right: Lecture and demo on Shaolin Kung Fu Essentials, Chan meditation • Center: Shaolin Baduanjin.





Left: Best Team Spirit Award to the Shaolin Wellness group in Shaolin Temple USA's 2011 Chinese New Year Parade team.
Center: Nathaniel Teng and David Mesropyan received Best Students awards, each a shield autographed by the Sifus.
Right: Successfully passing the White belt test at the park.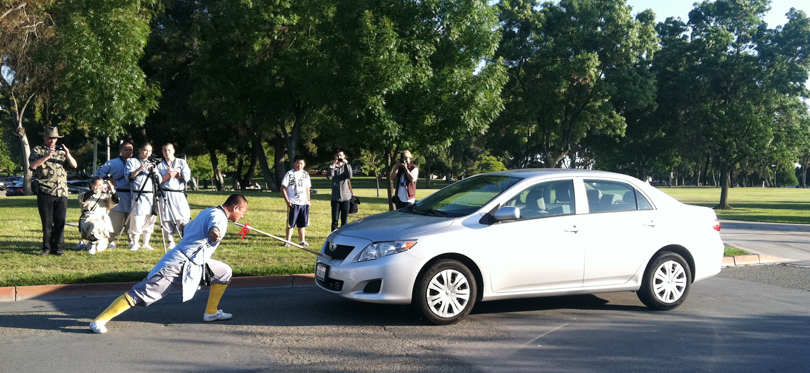 Master Shi Yanran demonstrated his Shaolin Hard Qigong specialty:
Spear Tip At Throat Pushing Car