2011 Shaolin Temple Day Celebration
Sunday, March 20, 2011 • Shaolin Temple USA Culture Center, Fremont CA
• 11 am: Vegetarian Picnic
• 1 pm: Shaolin Temple USA Students Kung Fu Competition
Location Change:
Due to forecast of rain on Sunday 3/20, the celebration will be held at
Shaolin Temple USA Culture Center in Fremont (4343 Peralta Blvd.)
(instead of Lake Elizabeth as previously announced)

Please sign up for the picnic and competition ASAP

— There will be no classes at our San Francisco and Fremont culture centers today —

| Picnic | Competition | Lake Elizabeth/Central Park | Maps & Directions |
| Origin of Shaolin Temple Day in US | 2009 Shaolin Temple Day | 2010 Shaolin Day |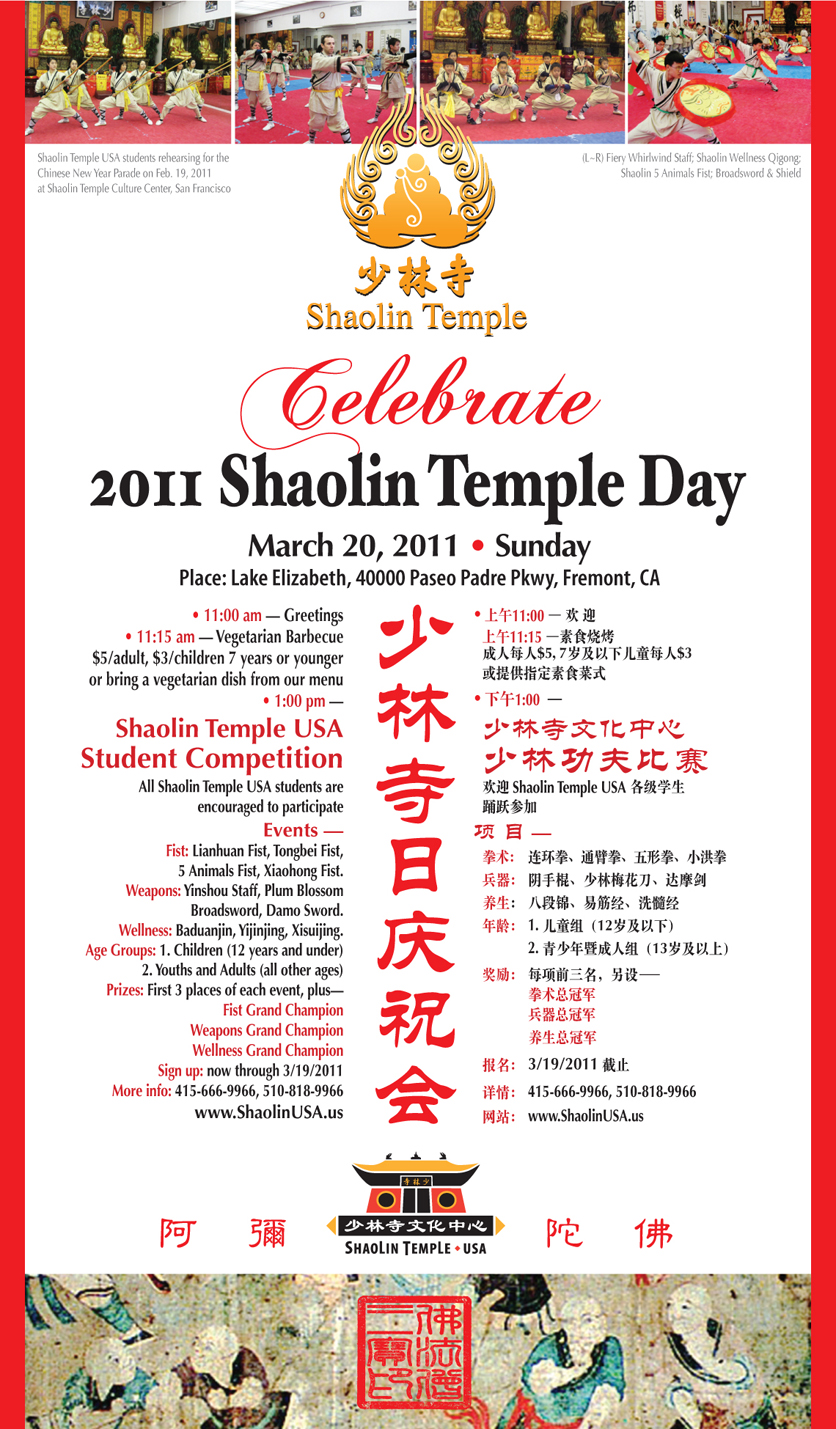 The annual Shaolin Temple Day (March 21, 2011) is just around the corner. Shaolin Temple USA will celebrate this year's special day on Sunday, March 20 at the beautiful Lake Elizabeth in Central Park of Fremont CA. We are getting together to celebrate Shaolin way of life, such as healthy, vegetarian diet, Shaolin Kung Fu for physical and spirit wellness, and harmony with nature and among ourselves.

We will also hold our first student competition on the traditional Shaolin fist, weapons and wellness forms that our students have learned at Shaolin Temple USA. We encourage all our students to participate. It's a great way to sharpen up your skills preparing for a good performance at the competition. Students who are planning to compete in the upcoming UC Berkeley and Kung Fu Magazine tournaments, this will be your rehearsal before the big tournaments.
The picnic at 11 am will be a light vegetarian lunch. You have the option of paying a small fee ($5/adult, $3/age 7 or under) for your lunch, or bringing a vegetarian dish or two to share. You may like to consider bringing the following:
Salad
Fruits
Main Dish
Starch (Rice, Noodle, Bread, etc)
Drinks
Desserts

Be creative. As veggie dishes go, any tofu, bean, seaweed, avocado, nuts and even some exotic exotic dishes such as couscous, quinoa are fine.

Please note that according to the Buddhist Sutra, e.g., Shurangama Sutra (leng yan jing), the Five Pungent Herbs 5–¡ (onions in any color, e.g., green, red, and white, garlic, scallions, leeks, and chives) should be spared from the Buddhist vegetarian dishes. Not only are they pungent, but also create anger and arousal. They are disrespectful for offerings. Eggs should be avoided as well.

For more information on vegetarianism, visit:
http://drba.org/dharma/btts/9xxEntryDetail.asp?wid=33
http://www.encyclopedia.com/doc/1O108-diet.html
http://www.goldsmiths.ac.uk/history/staff/d-keown.php

For vegetarian recipes, go to:
http://drba.org/dharma/veggie/default.asp

For further information on Shurangama Sutra (leng yan jing), go to:
http://www.drbachinese.org/online_reading/dharma_talks/ProperDharma_b/Proper_Dharma.b3.htm


Shaolin Temple USA Students Kung Fu Competition: 1:00 pm

Competition Events—
Fist Forms:
Lianhuan Fist, Tongbi Fist, 5 Animals Fist, Xiaohong Fist
Weapons:
Yinshou Staff, Plum Blossom Broadsword, Damo Sword
Wellness:
Baduanjin, Yijinjing (1st 3 sections), Xisuijing (1st 3 sections), Xinyi Fist

Age Groups:
1. Children (12 years and under)
2. Youths and Adults (all other ages)
Prizes:
First 3 places of each event, plus—
- Fist Grand Champion
- Weapons Grand Champion
- Wellness Grand Champion

Sign up: now through 3/19/2011. Please sign up ASAP.
You are required to sign a Hold Harmless Agreement with Shaolin Temple USA prior to the competition.
Competitors please wear your traditional Shaolin uniform for your events.
For more information, please call 415-666-9966 or 510-818-9966.
Email: ShaolinUSA@yahoo.com.cn

Place: due to rain forecast
We will be holding the celebration at:
Shaolin Temple USA Culture Center, 4343 Peralta Blvd., Fremont, CA
instead of:
Lake Elizabeth in Cental Park, Fremont CA
40000 Paseo Padre Parkway (at Stevenson Blvd.), Fremont, CA
Nearest major street: Stevenson Blvd. (Interstate 880S exit)
Lake Elizabeth/Central Park official website
Map & directions to Lake Elizabeth/Central Park
Picnic Area: Lions 2 (star #8, outlined in green on map of Central Park)
Parking lot is marked in pink.


Origin of Shaolin Temple Day in the United States

On March 21, 2004, a China Songshan Shaolin Temple Delegation led by the Venerable Abbot Shi Yongxin was honored by the California State Assembly with the proclamation of "China Songshan Shaolin Temple Day." A full scale Shaolin Kung Fu Performance by the world famous Shaolin warrior monks followed at Masonic Auditorium in San Francisco. The Legislative Resolution leading to this historic event was authored by California Senator Dr. Leland Yee (then Speaker pro Tempore of the California Assembly), an avid supporter of Chinese culture.

On March 21, 2009, China Songshan Shaolin Temple Day was again celebrated in San Francisco, followed by another breathtaking Shaolin Kung Fu Performance at San Jose Center for the Performing Arts on March 22, 2009, and a visit to the State Capitol five years after the 2004 proclamation of Shaolin Temple Day. The 6-day event was attended by thousands of local residents, honored guests and friends from around the world.

A large scale celebration is planned for the 10th Anniversity of Shaolin Temple Day in 2014 at multiple locations throughout the United States.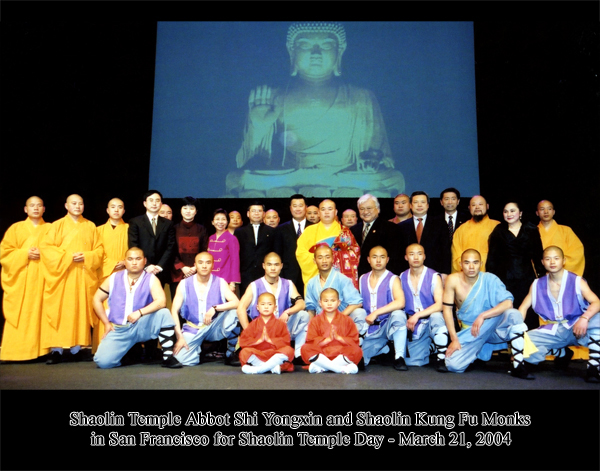 Shi Yanran (4th right, 1st row), now Executive Director of Shaolin Temple USA
was a member of the 2004 China Songshan Shaolin Temple Delegation honored at the State Capitol.