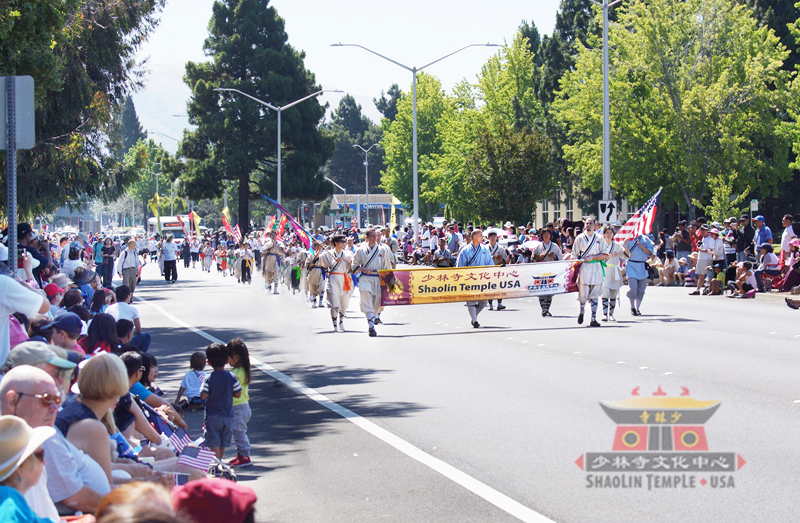 Team Shaolin Temple USA Joined Neighbors
at Fremont July 4th Parade
Saturday 7/4/2015, 10 am - 12 noon

Shaolin Temple USA students and Shifus joined local residents Fremont's annual 4th of July Parade, and presented an impressive program of Shaolin Kung Fu.

At 10 am on this beautiful sunny morning, over 60 parade teams from Fremont and neighboring cities stepped off from the Main Library and proceeded along the broad avenues towards the Civic Center. Floats, gigantic balloons, marching bands, dance, gymnastics, martial arts, vintage cars, public officials along with units from government departments, schools, businesses and community organizations, presented a festive array of performances and displays. Spectators arrived early for a good spot on the parade route to enjoy the parade and a leisurely holiday.

This is Shaolin Temple USA's second year in this parade. Team Shaolin Temple USA comprising Shifus and students from Shaolin Temple Culture Centers in San Francisco and Fremont performed Shaolin Muyu Kung Fu, Shaolin Fist and Broadsword and Shield Sparring, with the Shifus displaying their own favorite fist forms and Shaolin weapons. A dozen parents and young students carried the American and Shaolin flags.

Dressed neatly in traditional Shaolin attire, the radiant Shaolin Temple USA parade team was welcomed with enthusiastic applauses as soon as soon as it appeared before the spectators. Someone loudly told the people around him that Shaolin Temple has come to the Silicon Valley 8 years ago to spread Shaolin culture and teach authentic Shaolin Kung Fu. "They are doing a fine job. Just watch those Shifus and their students' performance and you'll know!"

Parade spectators were enchanted by the broad spectrum of Shaolin Kung Fu showcased by Team Shaolin Temple USA, and showered the performers with bravos and thunderous applauses.

Shaolin Temple USA organizes and participates in many events each year. Students and parents actively partake in and support these events. Today's parade provided another opportunity for students to step up their training, build confidence and community spirit, bringing a lot of joy to the students and their families.

In the afternoon following the parade, Shaolin Temple USA received a letter from a happy parent.

"Please pass along my comments to the masters who organized the team for the parade. I was very impressed with the show that Shaolin presented to the people of Fremont in the parade today. I was thrilled to see my son, Xiao Long, take it so seriously. He is often too playful, but today, I saw something in him I had not seen before. There was pride and confidence in his movements. At each point along the parade route when they performed, they got a very enthusiastic response from the crowd. Well done!!!!

This was a great experience for all involved. Thanks to the master for getting everyone prepared for this and especially Xiao Long."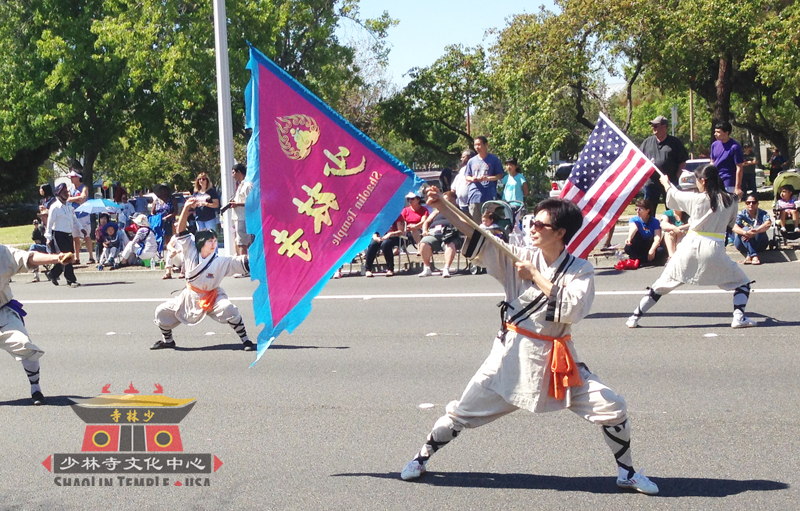 Radiant Shaolin Temple USA flag bearers.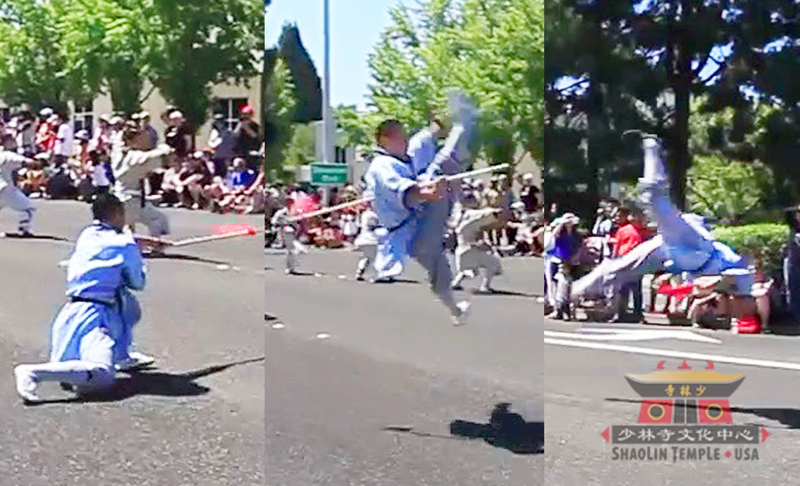 The Shifus' incomparable Kung Fu prowess was the highlight of the parade.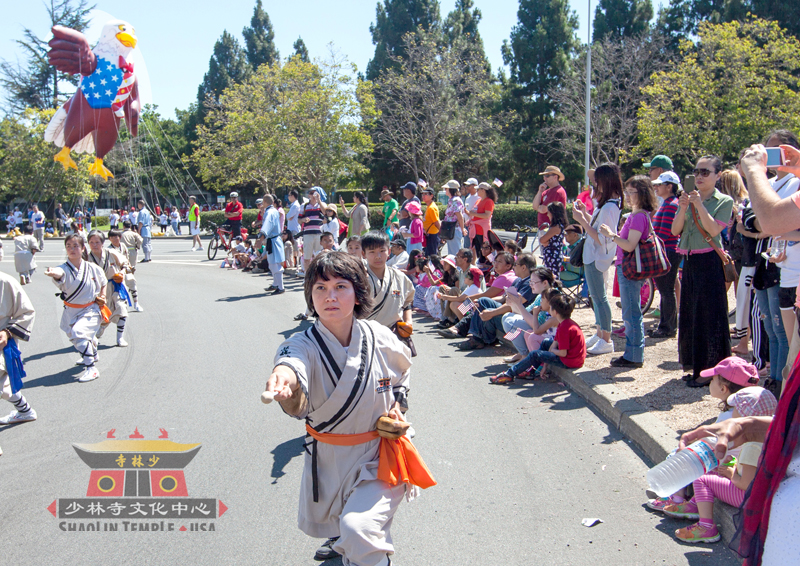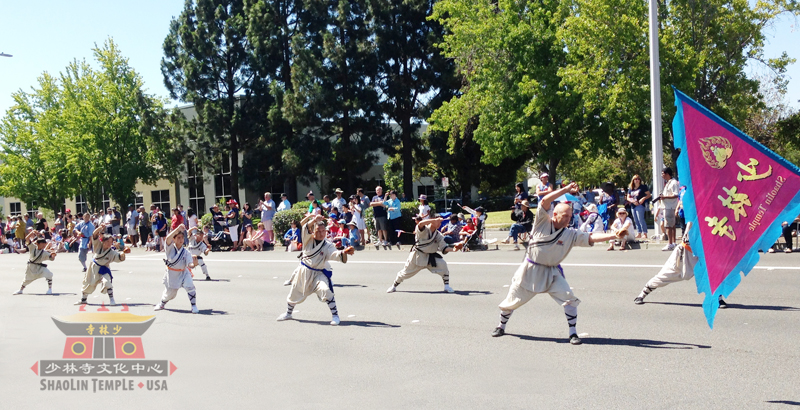 San Francisco Muyu Kung Fu team.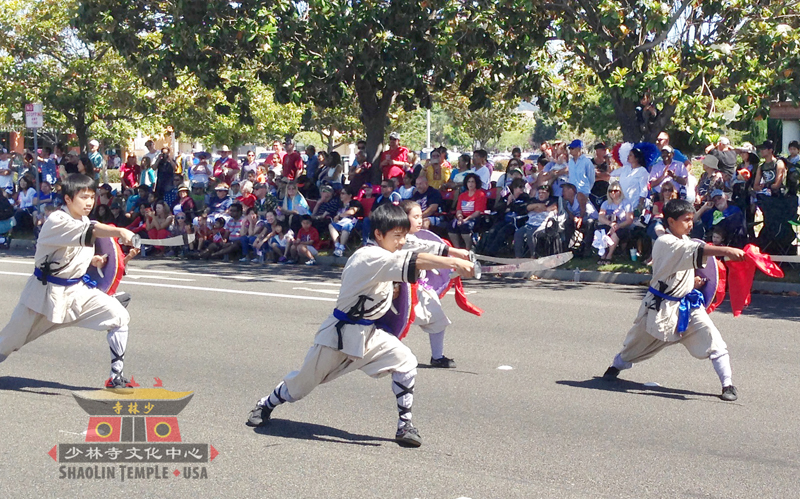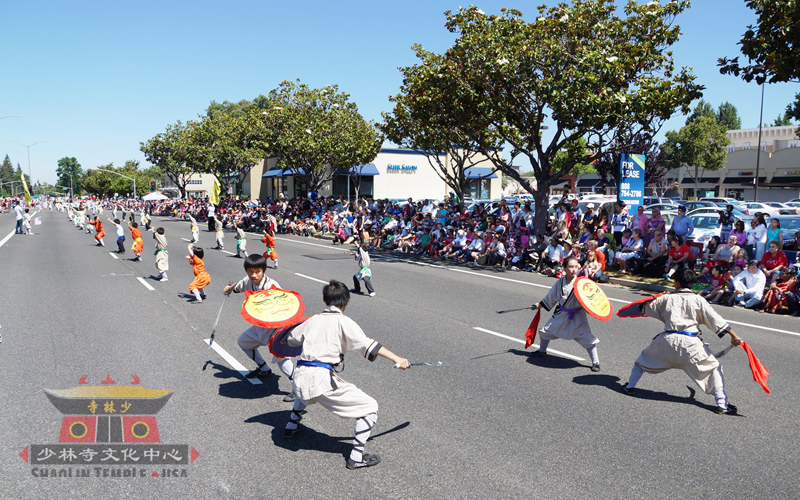 Fremont Broadsword and Shield sparring unit.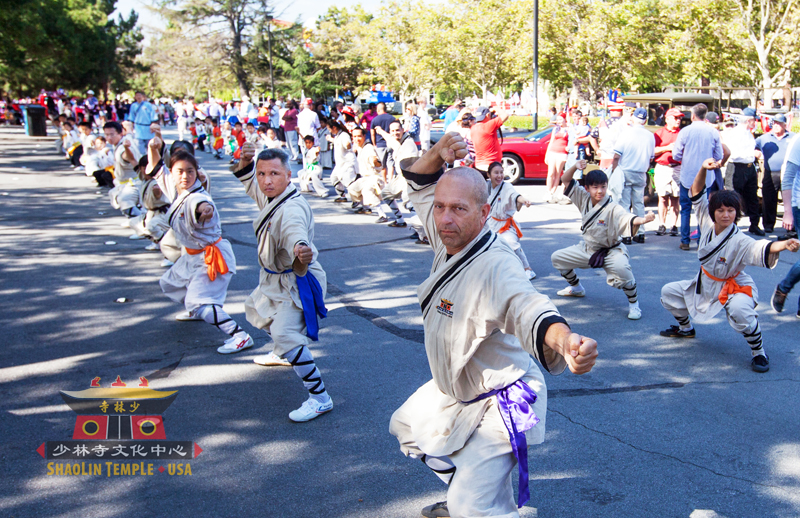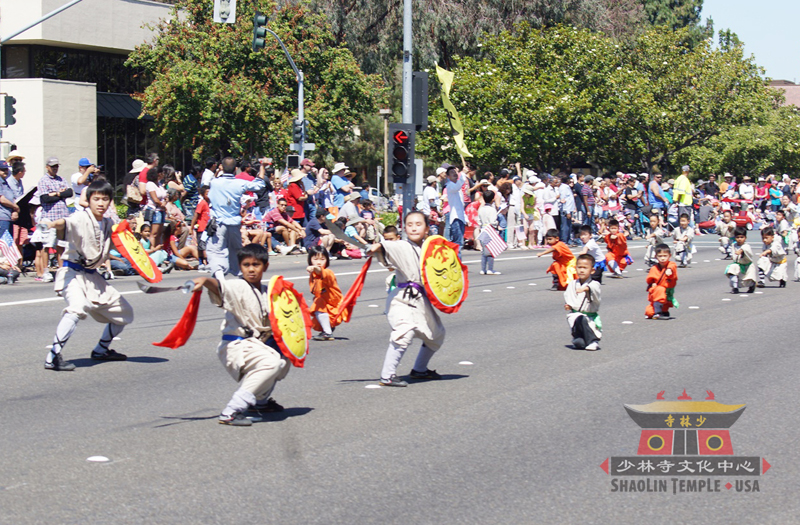 Team members from diverse backgrounds and age groups.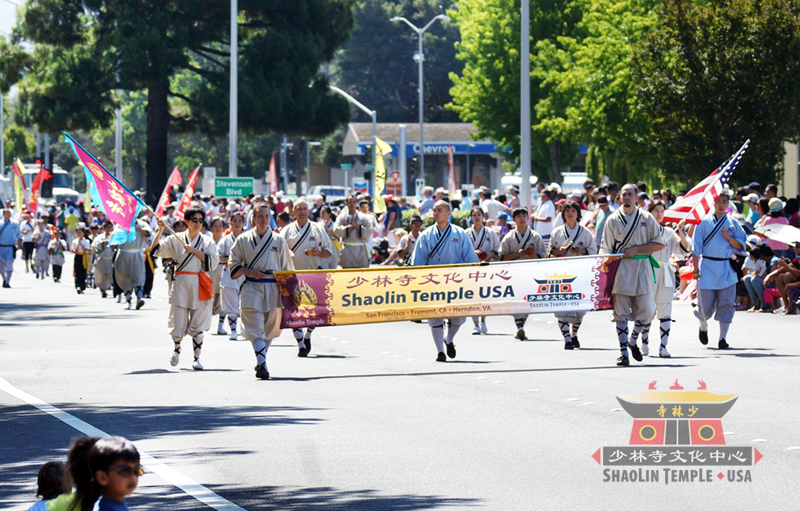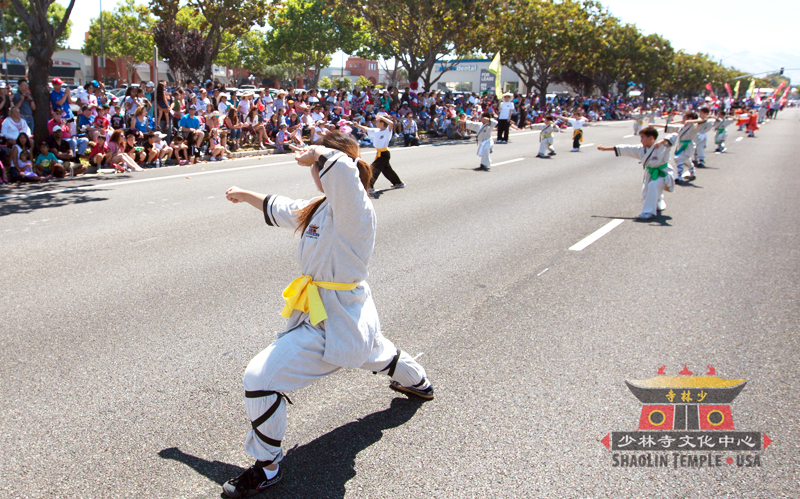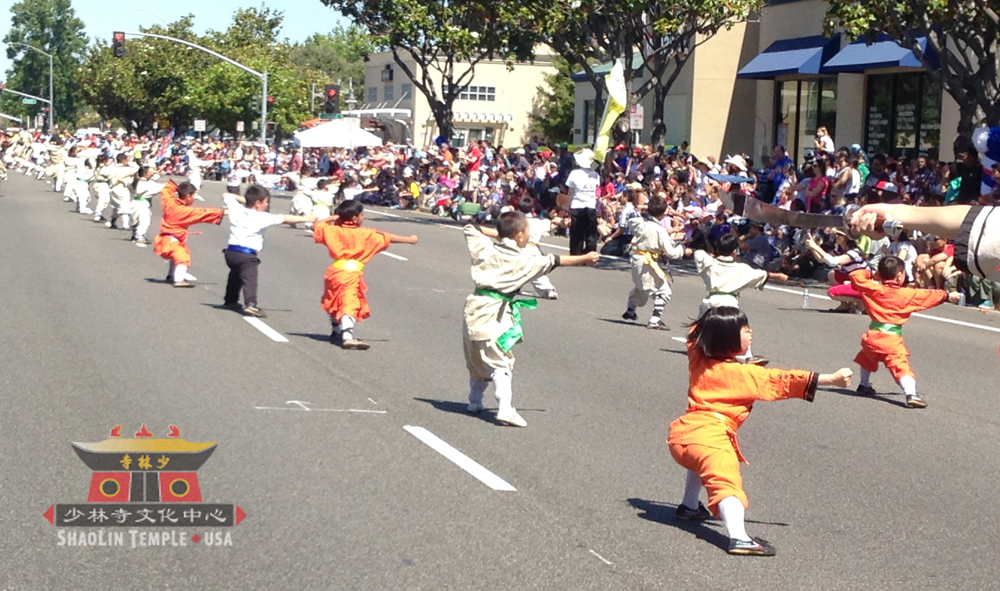 The Shaolin Temple USA parade team was greated by enthusiastic spectators.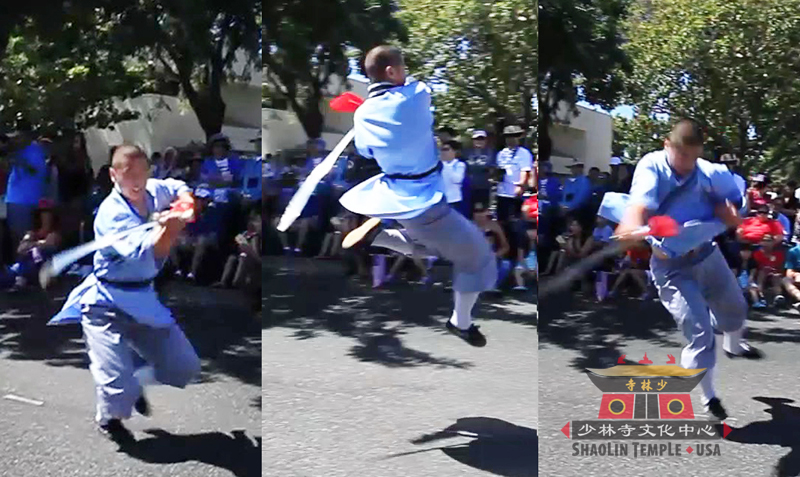 Spectacular Shaolin Broadsword form took the spectators' breath away.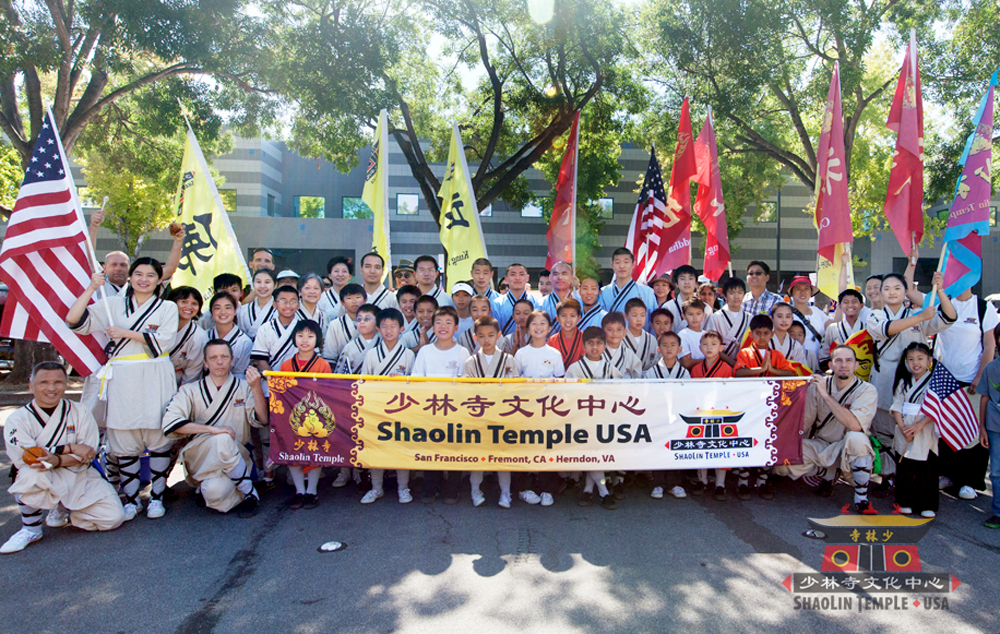 ---
Fremont July 4th Parade
Saturday 7/4/2015, 10 am - 12 noon

Shaolin Temple USA parade unit: No. 54
Shaolin Temple USA participants meeting time: 8:30 am

for joint rehearsal by SF & Fremont students.
Staging Area: Fremont Main Library parking lot
(2400 Stevenson Blvd.)
Please enter the staging area from Civic Center Drive or Stevenson Blvd. east of Civic Center Drive.
DO NOT enter from Paseo Padre and Stevenson Blvd.
Shaolin Temple USA parade team dress code
- All student performers please dress neatly in your traditional Shaolin Temple USA uniform with your current belt. If you don't have the traditional uniform, please wear clean training uniform with your current belt.
- Flag bearers: We may invite parents and students who are not performing to join our parade unit as flag bearers. Please dress neatly, preferably in white top and black pants.
Any questions anytime, please call 510-818-9966.