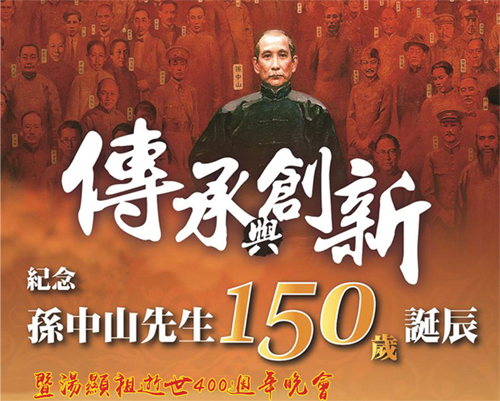 Led by Executive Director Master Yanran, Shifus and students of Shaolin Temple USA joined over 30 American West Coast groups in co-hosting the "Inheritance and Innovation" Evening Gala at Chabot College's performing arts center. After remarks by Consul General Luo Linquan of the People's Republic of China in San Francisco and visiting national and provincial officials from China, the evening's cultural program opened with an spectular presentation of song and dance entitled "Long Live My Motherland."

2016 marks the 150th birthday of Dr. Sun Yat-sen, modern Chinese democratic revolution forerunner, and the 400th anniversary of the passing of the great Ming Dynasty dramatist Tang Xianzu, who is often compared to Shakespeare in Western literature. To commemorate these great pioneers, Chinese officials and performing artists flew in from across the Pacific Ocean to join the commemoration. Nationally ranked opera performers, vocalists, dancers, musicians from China and US West Coast cultural groups shared the stage and presented an exciting program that included a speech based on Dr. Sun's famous dictum,"Aspire to do great things, not to be a high official." In step with this evening's theme of "Inheritance and Innovation," excerpts from Maestro Tang Xianzu's masterpiece "Peony Pavilion" was performed by young opera artists from China.

Shaolin Temple USA's Kung Fu showcase was one of the audience's most favorite programs of the evening. Shifus and students' spectacular performance of traditional Shaolin fist and weapon forms, including Shaolin Seven Stars Fist, Six Harmonies Sparring Sets, Mantis Fist, Double Whips, Wind Chasing Broadsword, Fiery Whirlwind Staff and Shaolin Hard Qigong, was rewarded with high praises and roaring applause from the audience. The Shifus mesmerized the audience with their superb performance and Kung Fu prowess, while the students enchanted the viewers with their Kung Fu skills, spirit and team work.

Since coming to the United States to promote Shaolin culture, Master Yanran has developed a well-structured Shaolin Kung Fu curriculum currently taught at 4 Shaolin Temple USA Culture Centers and Stanford University's Kung Fu classes. As head coach, he has also trained dozens of outstanding Shaolin Kung Fu coaches and thousand of students. "Inheritance," a theme of the event manifested on the new generation of Shaolin Kung Fu inheritors on stage tonight. All eyes are on them to learn and mature in this art, and to contribute their innovations to further enrich Shaolin culture.