Shaolin Temple USA's Spectaclar Presentation
in Chinese New Year parade telecast opening
mini-drama Monkey King, followed immediately by
Shaolin Temple USA's Whirlwind Staff Team.
KTVU-2 or KTSF-26
Feb. 20, 2016
« Video »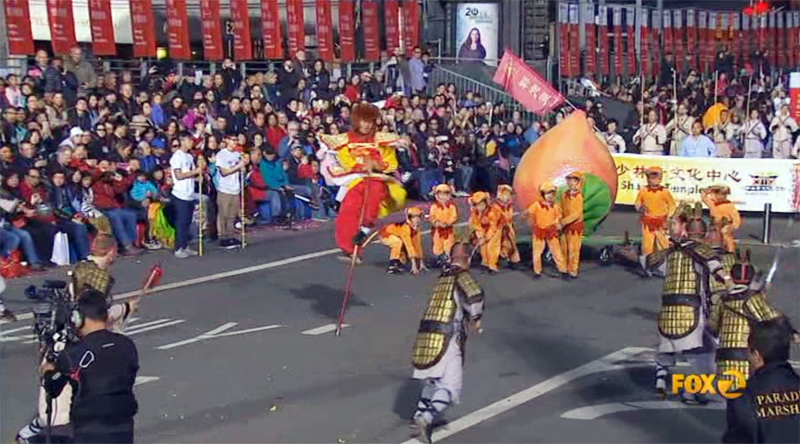 Monkey King

After months of planning and weeks of rehearsals, Monkey King premiered in the San Francisco Chinese New Year Parade's telecast opening on February 20 at 6:00 pm. It was a collaborative project of Shaolin Temple USA, Chinese Chamber of Commerce and Academy of Arts University.

Harlan Wong, Director of the San Francisco Chinese New Year Parade provided the storyline and costumes for the Monkey King mini-drama. Master Yanran of Shaolin Temple USA cheorographed and directed the spectacular combats between the Monkey King and the celestial soldiers. Bob Toy, Publications and Special Events Project Manager of the Academy of Art Unversity directed the drama of this unique mini-play. The talented Academy students wrote the orginal music score, and produced the Monkey King's hair piece and the beautiful giant peach to great effect.

Monkey King was played by Shaolin Temple USA's senior Kung Fu coach Shifu Hengwu. The celestial soldiers and the monk were played by our Shifus and students. Little monkeys were played by young students from San Francisco and Fremont Centers.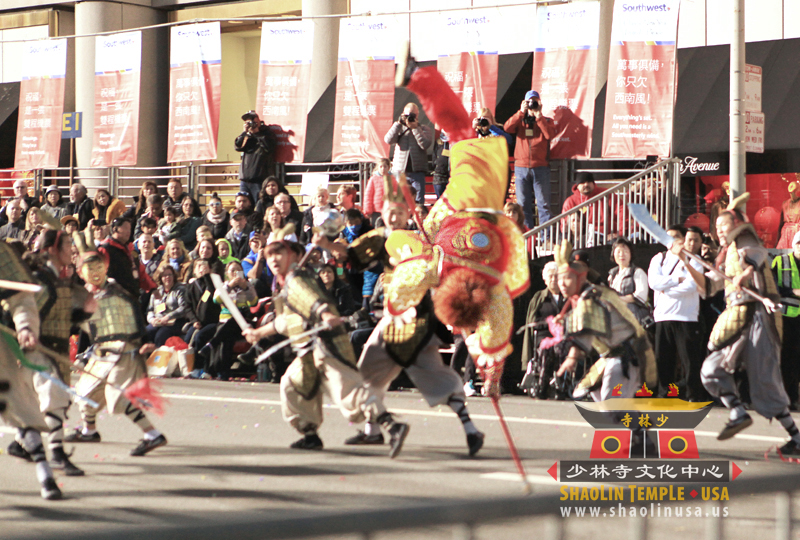 Non-stop jaw-dropping action thrilled spectators of all ages..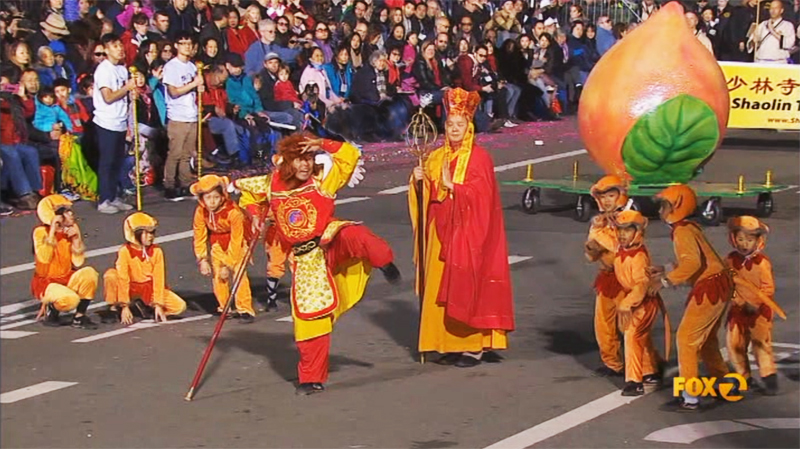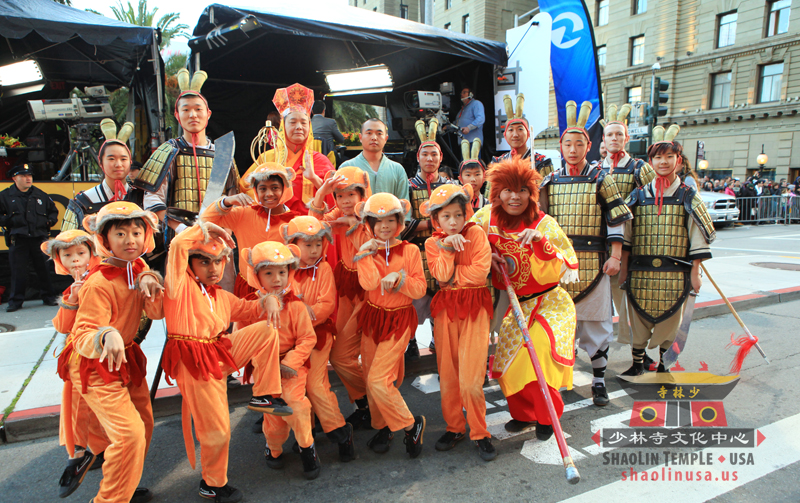 The cast of Monkey King posed for a photo with Master Yanran.


Shaolin Fiery Whirlwind Staff

Students from Shaolin Temple USA's San Francisco and Fremont Centers and Stanford University made up the Fiery Whirlwind Staff and Flags formation.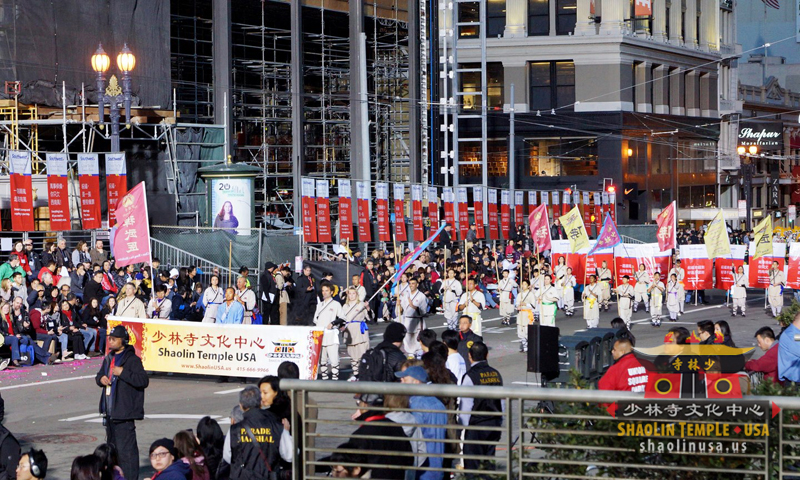 The Fiery Whirlwind Staff Team entered the telecast zone immediately after Monkey King.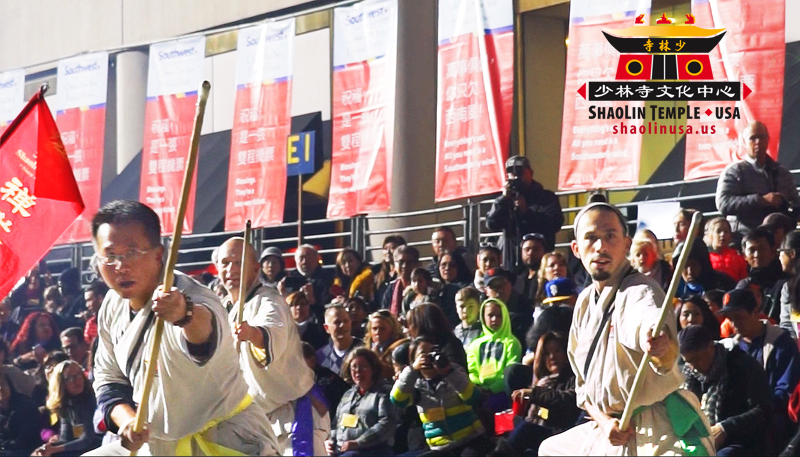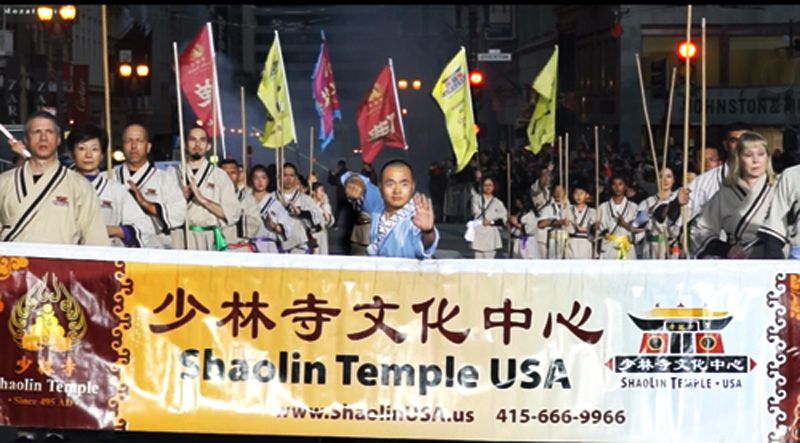 The Shaolin Fiery Whirlwind Staff team was led by Master Yanran.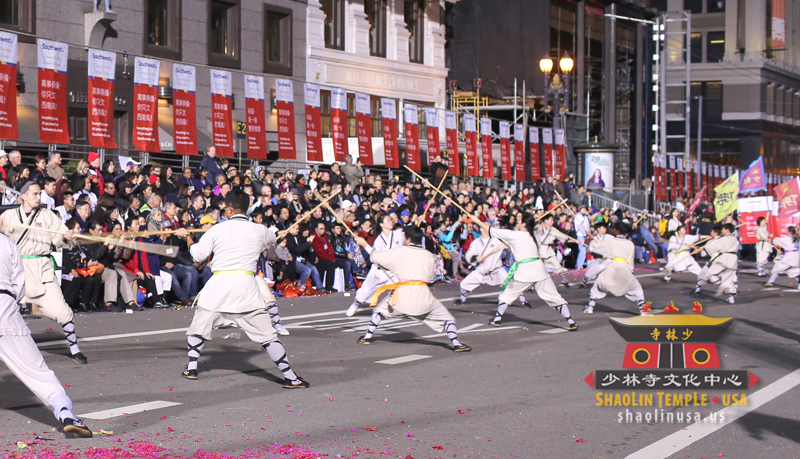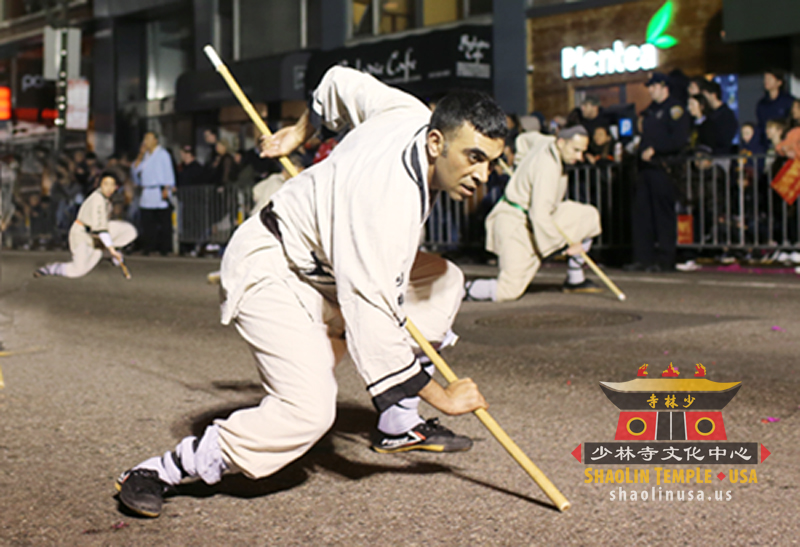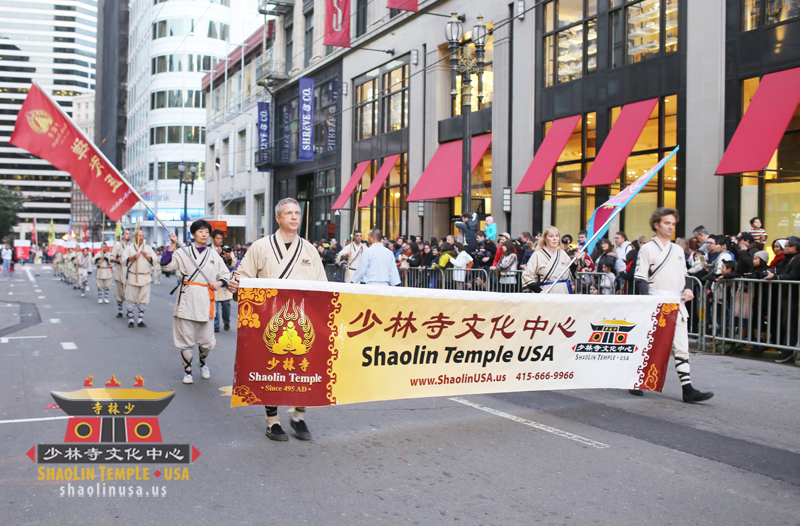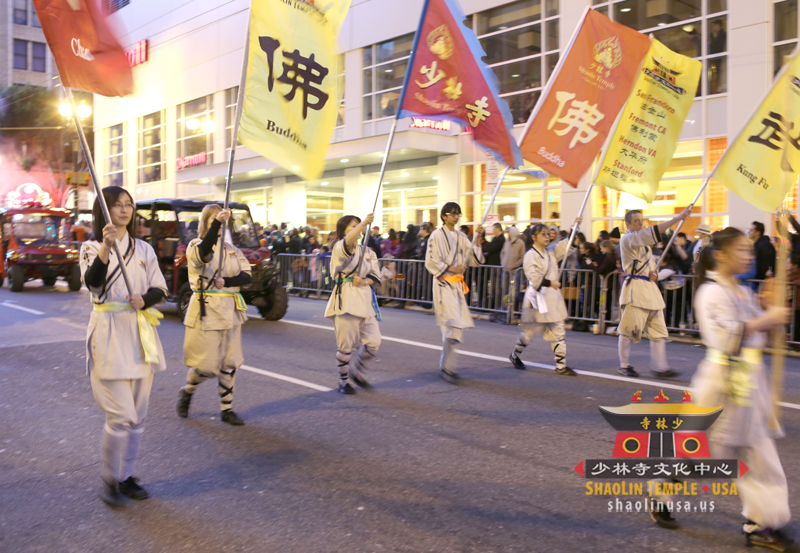 Shaolin flags were carried by students of diverse ethnic and professional backgrounds.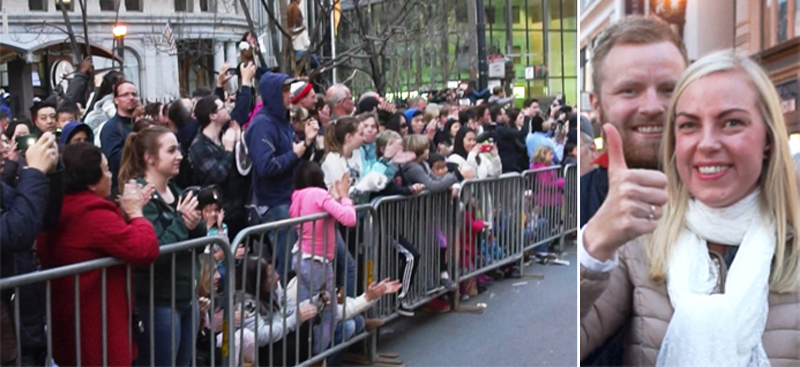 Applauses, cheers and thumbs up from spectators who also kept busy capturing the action with cameras and smart phones.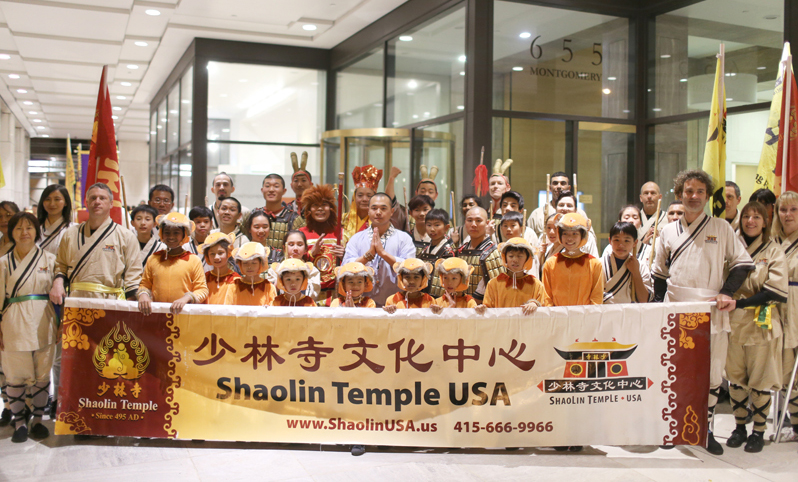 Group photo at the at the end zone of the parade.


---
• Monkey King Dress Rehearsals •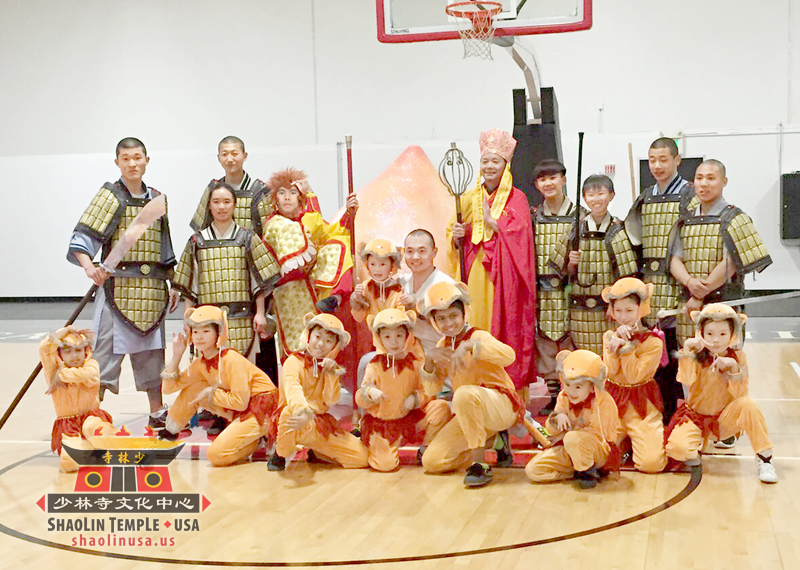 Academy of Arts University facility.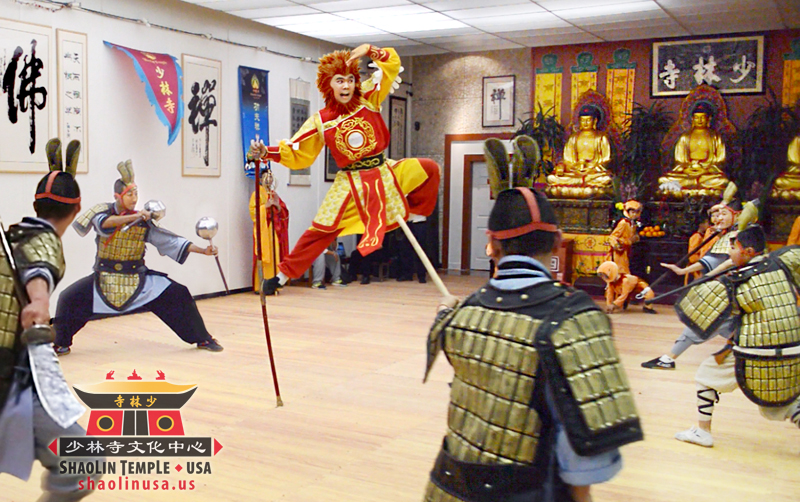 Shaolin Temple USA' San Francisco center.