"Experience Shaolin"
2011 Cultural Journey to China Songshan Shaolin Temple
2011.06.20 - 6.30
"Experience Shaolin"
Summer Study Camp at China Songshan Shaolin Temple:
• Experience life at the 1,500-year old Buddhist monastary
• Immerse in a spiritual journey at the birthplace of Chan (Zen) Buddhism
• Study Shaolin Kung Fu with the legendary Shaolin Warrior Monks at their secret training grounds
• Visit historic Buddhist and scenic wonders in this central region of China known as the "Cradle of Chinese Civilization."
Journey led by: Master Shi Yanran, Executive Director of Shaolin Temple USA
|
English Flyer
•
English Itinerary
|
Chinese Flyer
•
Chinese Itinerary
|
Hello from Shaolin Temple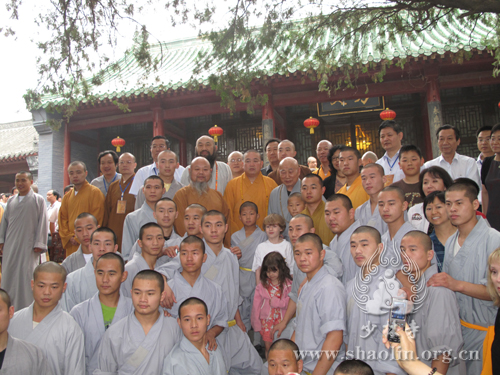 Shaolin Temple USA Executive Director Master Shi Yanran led a group of students through a unique journey in Buddhist traditions and Shaolin Kung Fu at Songshan Shaolin Temple late June, 2011. Master Shi Yanda, Monastic Supervisor of Shaolin Temple (2nd-in-command after the Abbot) gave the group a special guided tour in the inner chambers of the ancient monastary, and an in-depth introduction of Chan Buddhism and Shaolin culture. The group paid homage to the Venerable Shaolin Abbot Shi Yongxin, joined the monks at their daily 5 am morning sutra recitation session, dined with them at their vegetarian breakfast and lunch. Kung Fu lessons took place inside Shaolin Temple and in the mountain where Shaolin warrior monks train. The groups also took up the challenge of scaling the heights to Bodhidharma Cave and Sanhuang Camp to be at one with the majestic Songshan, or Zhongyue—the "Middle Mountain" located at the center among China's five famous sacred mountains. The journey's experience was heightened by the enchanting Chan Music Shaolin Grand Ceremony with magnificent natural Songshan scenery as backdrop.
Above: Photo with Venerable Abbot Shi Yongxin and Venerable Master Chuang Yin, President of Buddhist Association of China in front of Abbot Hall.