|
Introduction
|
Contest Rules
|
Entry Form
|
Entry Submission by Email
|
|
Origin of Shaolin Temple Day
|
2009 Shaolin Temple Day
|
|
2010 Shaolin Day
|
2011 Shaolin Day
|
|
Chinese Press Release
|
..................................................................................................

Entry Submission Deadline:
Extended to May 1, 2012
Awards Ceremony will be held at:
Shaolin Temple USA 5th Anniversary Celebration Kick-Off Party
Sunday, June 24, 2012 • 11 am - 3 pm
Sutro Heights Park, Pt. Lobos (48th Ave. & Geary), San Francisco
« 5th Anniverary Kick-Off Party Webpage »

..................................................................................................


In response to muiltple requests, we have extended the entry submission deadline for the contest from Friday, April 20 to Tuesday, May 1, 2012, to allow students and parents more weekends to work on their entries and submit the finished works when they come in for weekend classes at our Shaolin Culture Centers. We are delighted to see the creativity, quality and variety of entries that we have received so far. If you have not started on your project, it's not too late to start NOW!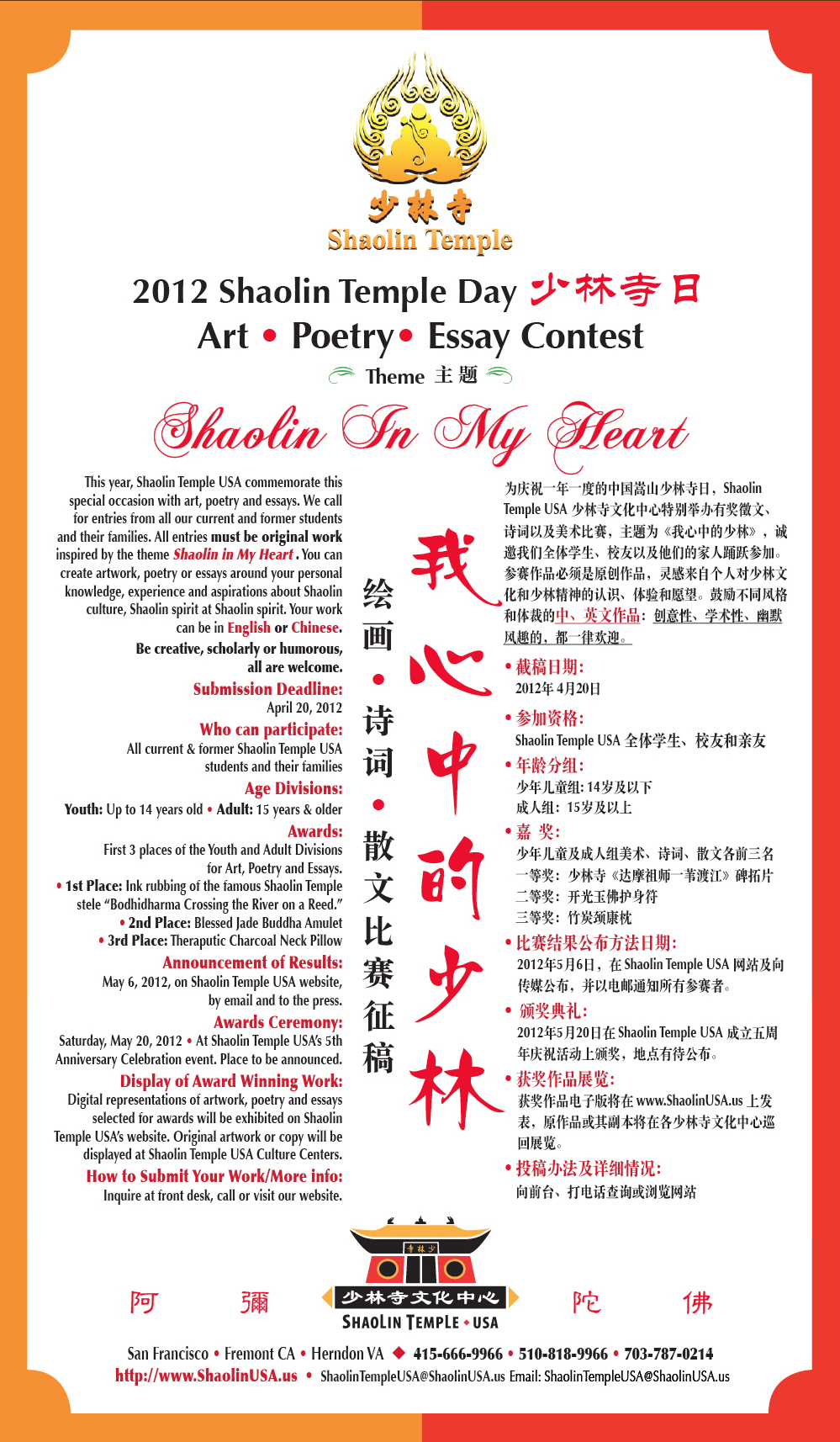 2012 Shaolin Temple Day
Art • Poetry • Essay Contest
Theme:
Shaolin In My Heart



• Call for Entries •
from Shaolin Temple Students, Alumni and their Families
This year, Shaolin Temple USA commemorate this special occasion with art, poetry and essays. We call for entries from all our current and former students and their families. From March 21, the proclaimed Shaolin Temple Day to April 20, 2012, we are accepting entries of artwork, poetry and essays with the general theme of Shaolin in My Heart. They can be work that you have previous done, or wthat your aregoing to create.

We have discovered that there are "Crouching Tigers, Hidden Dragons" amongst our students and their families. Our young students have vivid imaginations and love to draw. They have presented us with the most interesting depictions of Shaolin Kung Fu and their Sifus. Other students are accomplished artists, poets and writers in their own right.

All entries must be original work inspired by the theme Shaolin in My Heart. You can create artwork, poetry or essays around your personal knowledge, experience and aspirations about Shaolin culture and Shaolin spirit. Your work can be in English or Chinese.
Be creative, scholarly or humorous, all are welcome.

Entry Submission Deadline:
April 20, 2012
Extended to May 1, 2012
Why this Contest?

Since 2009, every year in March, Shaolin Temple USA has been celebrating China Song Shaolin Temple Day in different ways. In 2009, we produced a 6-day multiple-city celebration with the theme of: 1,500 Years of Cultural Heritage: Shaolin Chan Buddhism, Kung Fu and Medicine. Events included a whole-day celebration at San Francisco Union Square that began with a Buddhist Morning Prayer presided by Venerable Abbot Shi Yongxin of Songshan Shaolin Temple; a large scale Shaolin Kung Fu Performance at the San Jose Center for the Performing Arts; and a full day of celebration in Sacramento with official ceremonies at the State Senate and Assembly. In 2010, Shaolin Temple USA Culture Centers in San Francisco and Fremont, CA celebrated Shaolin Temple Day with Kung Fu Performances, Chan meditation and vegetarian food tasting. In 2011, we celebrated Shaolin Temple Day with a Student Kung Fu Competition in the Shaolin Warrior spirit of "Valor, Diligence, Grace and Open Mindedness." .

Now in 2012, we are highlighting "The Arts" as in four different areas of accomplishments that made Shaolin Temple famous for over a millennium: Chan Buddhism, Kung Fu, Medicine and the Arts. Songshan Shaolin Temple has been the home of many of China's most distinguished poets, calligraphers and painters. Shaolin Temple and Shaolin Culture have inspired many brillant literary and artistic masterpieces throughout Chinese history. It is Shaolin Temple USA's mission to carry on the tradition and promote Shaolin arts in America.